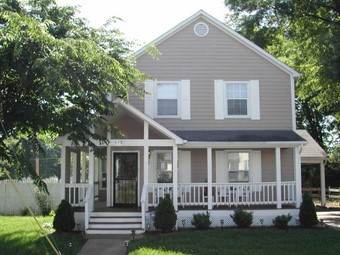 In the Toolbox


This HousingPolicy.org is pleased to announce the release of two new policy toolkits as part of Housing Solutions Week 2010. This marks the expansion of the existing online Toolbox, which focuses on policies to

Increase the Availability of Affordable Homes

.




Meet the Housing Needs of Older Adults


This new toolkit provides information on tools that enable older adults to access affordable homes and services. The information is organized into three sections:

- Provide accessible, safe, and affordable homes, which covers subsidized housing, universal design and visitability, and home weatherization.


- Improve access to social services and transportation options, which highlights strategies that link homes with services and affordable transportation options.

- Support housing models geared to older adults: The third section explores various housing alternatives available to older adults who do not wish to live in a nursing home. Supportive housing and cohousing are among the options discussed.



Make Homes More Resistant to Natural Disasters


This toolkit describes proactive measures that states and localities can take to reduce the loss of human life and protect homes vulnerable to natural disasters from property damage. The sections of this toolkit include:


- Promote "Smarter and Safer" Building and Rehabilitation Practices highlights ways to provide support to encourage disaster-resistant construction and home improvement.

- Improve Community Regulations and Planning Strategies: describes how states and localities can develop and enforce residential building codes and land use planning practices that lead to safer, stronger homes.
- Finance Efforts to Make Homes More Resistant to Natural Disasters provides an overview of federal, state and local resources to finance and incent the construction and upgrading of disaster-resistant homes.
- Link Efforts to Improve the Disaster Resistance and Energy Efficiency of Homes features approaches that enable communities to build safer and greener homes.
Visit the Toolbox!
"Out Loud" Podcast
This month's

Out Loud

podcast features an audio recording from HousingPolicy.org's March 26

Live at the Forum

event, "Linking Housing, Transportation and Workforce Policies." The guest speakers presented findings from two new policy briefs from the Center for Housing Policy and the Metropolitan Planning Council on the coordination of transportation, housing, and land-use policy, including on-the-ground examples from Atlanta and the Twin Cities.

The audio portion of this

Live at the Forum

event features Emily Salomon from the Center for Housing Policy and Robin Snyderman from the Metropolitan Planning Council. Susan Adams from the Atlanta Neighborhood Development Partnership, Inc. and Caren Dewar from ULI Minnesota also participated in the call to link their experiences to the themes outlined in the new policy briefs.

Listen to the Live at the Forum Event!


Solutions in Action
Data related to foreclosures can help communities prevent foreclosures more effectively. In the Washington, DC region, data collection and analysis helps to improve foreclosure prevention counseling through a partnership between the Urban Institute and Housing Counseling Services, Inc. Knowledge of the landscape of delinquent and high-risk mortgages in the region enables Housing Counseling Services to conduct outreach to borrowers at risk of foreclosure and tenants in affected buildings. Data analysis also helps Housing Counseling Services to anticipate the likely demand for foreclosure prevention counseling and allocate resources effectively to meet this demand.
Learn more about this Solution in Action
New "Paycheck to Paycheck" Released


A new edition of the annual study,

Paycheck to Paycheck: Wages and the Cost of Housing in America

, is now available online. The study provides detailed homeownership and rental affordability findings for more than 200 U.S. metropolitan markets nationwide and for over 60 key community occupations, including new "green economy" jobs, between the fourth quarters of 2008 and 2009. The study also includes related affordability rankings and comparisons for all the metro markets and occupations studied. By comparing the salaries of key community occupations to the costs of owning and renting a home in metro areas nationwide, this study helps to identify those communities with pressing affordability concerns.
Click here to view Paycheck to Paycheck